Herb Outline English Edition Pharmaceutical Book Illustration Of The Original Li Shizhen Original Full Set Of Chinese Herbal Medicine Book Compendium Of Materia Medica Bencao Gangmu
Basic information
title:

Genuine Compendium Materia Medica (Bencao Gangmu,
Medicine, Health s books).

author:

Li Shizhen, Rohiwen

publishing house:

Foreign language publishing house

Published:

2004-02-01

edition:

1st

ISBN:

9787119032603

market price:

4800.0 RMB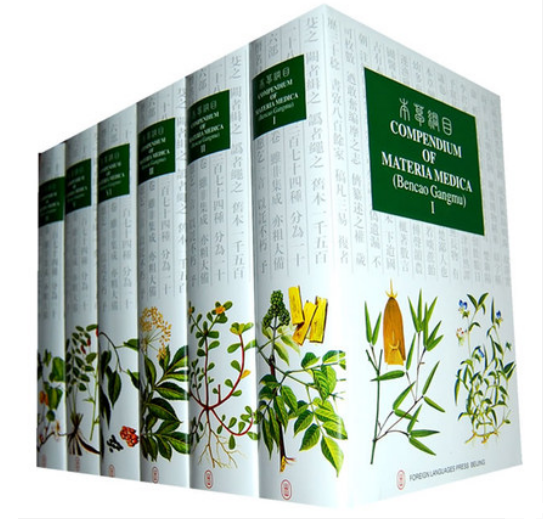 Description of the content
This book from the "herb outline" selection of more than 200 kinds of commonly used drugs, divided

into water and fire stone, grass, grain harvesting, fruit, wood, insect scales and other six parts,
specific drugs under the newly released name, production, taste, treatment, invention, appendage
and other 6 items, are selected from the original "herb outline", basically maintain the original
overview, this book refers to a variety of versions of the "herb outline" for the general purpose.
Index

GENERAL TABLE OF CONTENTS (Volumes arranged according to the original Chinese edition)

TRANSLATOR S NOTE

PREFACE

by Wang Shizhen (1590)

PREFACE FOR THE REPRINTING IN 1603

by Xia Liangxin

PREFACE FOR THE REPRINTING IN 1603

by Zhang Dingsi

.
MEMORIAL TO THE THRONE--CONCERNING THE BENCAO GANGMU

by Li Jianyuan (1596)

AUTHORS NOTE (1590)

VOLUME 1 GENERAL INTRODUCTION: SOURCES AND THEORETICAL BASIS.

VOLUME 2 GENERAL INTRODUCTION

VOLUME 3 DRUGS FOR TREATING A HUNDRED DISEASES

VOLUME 4 DRUGS FOR TREATING A HUNDRED DISEASES

VOLUME 5 THE CATEGORY OF WATERS

(I) Waters from Heaven: 13 Drugs

(II) Waters from Earth: 30 Drugs

VOLUME 6 THE CATEGORY OF FIRES

11 Drugs

VOLUME 7 THE CATEGORY OF EARTH

61 Drugs

VOLUME 8 THE CATEGORY OF METALS, STONES AND MINERALS

(I) Metals: 28 Drugs

(II) Jades: 14 Drugs

VOLUME 9 THE CATEGORY OF METALS, STONES AND MINERALS

(III) Stones: 32 Drugs

VOLUME 10 THE CATEGORY OF METALS, STONES AND MINERALS

(IV ) Stones: 40 Drugs

VOLUME 11 THE CATEGORY OF METALS, STONES AND MINERALS

(V) Halogens: 20 Drugs

Appendix: 27 Drugs

VOLUME 12 THE CATEGORY OF HERBS

(I) Mountain Herbs: 31 Drugs

VOLUME 13 THE CATEGORY OF HERBS

(II) Mountain Herbs: 39 Drugs

VOLUME 14 THE CATEGORY OF HERBS

(III) Fragrant Herbs: 56 Drugs

VOLUME 15 THE CATEGORY OF HERBS

(IV) Herbs from Swampland: 53 Drugs

VOLUME 16 THE CATEGORY OF HERBS

(V) Herbs from Swampland : 73 Drugs

VOLUME 17 THE CATEGORY OF HERBS

(VI) Toxic Herbs: 47 Drugs

VOLUME 18 THE CATEGORY OF HERBS

(VII) Creeping Herbs: 73 Drugs

Appendix: 19 Drugs

VOLUME 19 THE CATEGORY OF HERBS

(VIII) Aquatic Herbs: 23 Drugs

VOLUME 20 THE CATEGORY OF HERBS

(IX) Herbs from Rocky Land: 19 Drugs

VOLUME 21

THE CATEGORY OF HERBS

(X) Mosses: 16 Drugs

(XI)Miscellaneous Herbs: 9 Drugs

Drugs with Their Names Recorded But Not Y