Cannabis Grower Information Sources


Books – click on picture to download – not all are available
Best New Marijuana Cultivation Books To Read In 2022
As featured on CNN, Forbes and Inc identifies and rates the best books in the world, based on recommendations by thought leaders and experts.
Ed Rosenthal

,

Dr.Robert Flannery

,

Angela Bacca

,

Tommy Chong
Ed Rosenthal's Marijuana Grower's Handbook is the definitive guide for all cultivators—from first-time home growers to experienced large-scale commercial cannabis operators. The Grower's Handbook breaks down the fundamentals of marijuana cultivation and demonstrates their practical applications in gardens of any size. Learn new techniques to maximize yield and efficiency and to grow bigger, more potent resinous buds!
Cannabis Grower's Handbook covers the newest lighting technologies such as LED and adjustable spectrum bulbs; permaculture and regenerative farming techniques; advanced drying and curing methods and strategies; comprehensive integrated pest management; and over a dozen specialized garden setups. Still deciding what to grow? This guide will help you choose among the many options from innovative breeders, which now include autoflowering plants and CBD and CBG varieties of hemp. With over 600 pages of full-color photos, this grower's guide presents the latest science, tools, and methods to enable you to grow a cannabis garden of any size, anywhere—indoors or out. Ed Rosenthal's books are known for their easy-to-understand and trend-setting content and have educated millions of growers—hobbyists and professional cultivators alike consider Ed's books their go-to guides. This fully updated edition of Ed's groundbreaking Marijuana Grower's Handbook comes at a time when more people than ever before can legally grow cannabis and want to know how to maximize their yields. Once again, Ed shows you how, this time drawing on the contributions and research of the pioneers and leaders in the legal cannabis industry, as well as from professors at leading horticultural schools at the University of California at Davis, Cornell University, the University of Connecticut, and Oaksterdam University. Two new co-authors have contributed their expertise to Cannabis Grower's Handbook: Dr. Robert Flannery holds a Ph.D. in plant biology and is the founder of Dr. Robb Farms, a licensed cannabis producer in California. Angela Bacca is an editor and journalist who has specialized in cannabis content for over ten years and edited the 2010 edition of the Marijuana Grower's Handbook. Dr. Robb and Angela Bacca join Ed Rosenthal to bring the must-have Cannabis Grower's Handbook to a rapidly "growing" audience
This book will change the way you grow. Marijuana Grower's Handbook shows both beginners and advanced growers how to grow the biggest most resinous, potent buds! This book contains the latest knowledge, tools, and methods to grow great marijuana—indoors and out. Use the most efficient technology and save time, labor, and energy. Ed Rosenthal has been teaching people how to grow marijuana for more than 30 years. Let him help you cultivate bountiful buds and lots of them. With 500 pages of full-color photos and illustrations, the book delivers all the basics that a novice grower needs, as well as scientific research for the experienced gardener. All aspects of cultivation are covered, from the selection of varieties, setting up of the garden, and through each stage of plant growth all the way to harvesting. Readers can link to Ed's research for additional information, photos, and equipment updates. Full-color photographs throughout clarify instructions and show the stunning results possible with Ed's growing tips.
2.Growing Marijuana for Beginners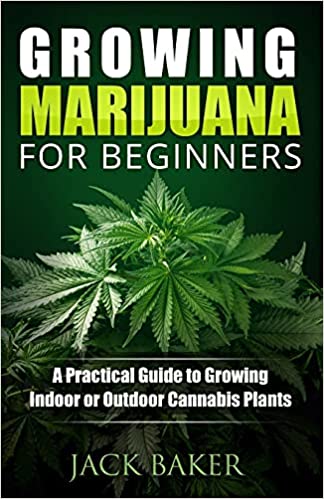 Are you looking for a step-by-step guide to grow marijuana indoor or outdoor? Have you been looking for a resource to help you easily learn how to cultivate marijuana?If this sounds like you, then keep reading! Cannabis cultivation has never been easier, and both indoor and good outdoor results are within your reach. In this beginners' guide, you will find basic knowledge about weed, seeds, and everything relevant to success in this field of business. Please note that MJ is not legal in all the states, so a chapter will guide you on the best solutions depending on the state you live in.
This book will give you complete knowledge about weed cultivation and teach you tips and tricks for a greener field.Regardless of who you are and what you want to accomplish, learning how to grow cannabis is the same for everyone. This book will help you understand everything you need to know about growing marijuana including the benefits and challenges that they bring, and I will provide you with a step by step process for growing cannabis along with some practical tips and tricks that you can put into use right away.Within these pages, you will discover:• The Differences Between Varieties of Marijuana• The Healing and Therapeutic Power of Quality Weed• How to Set Up a Successful Cultivation of Marijuana, Either Indoor or Outdoors• Which Are the Safe Uses of Marijuana and Law and Regulation of Marijuana Plants• How to Use Hydroponics and Aquaponics Systems to Grow Marijuana AND MUCH MORE !No matter how young or old, how inexperienced or experienced, or what education level you have, this book will be able to help you strengthen your understanding of growing marijuana so that you can utilize it in your daily life to achieve the things you want to achieve. If you're ready to take control and learn what growing marijuana can do for bettering your life - then look no further. Don't waste another minute, scroll up and hit "BUY NOW" to get started today!
3.The Journey of My Little Herb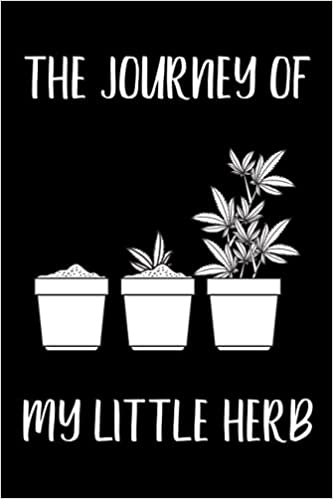 Cannabis Growers Journal Details:- Paperback, Premium Glossy Cover- White paper interior, Printed on quality paper.- Book dimensions 6x9 inch, 118 Pages- Belongs to page- Interior : Strain Name, Date Started, Method/Technique (Seed or Clone), Marijuana Type (Indica, Sativa, Hybrid), Cannabis Seeds (Feminized, Autoflower, Regular, CBD), Plant Count, Date Harvested, Date Begin, Date End Cure, Aroma, Bud Density, Trichome Color, Appearance, Notes, Feeding Schedule & Time Pages- Perfect gift for cannabis growers, weed lover
4.Weed Growing Journal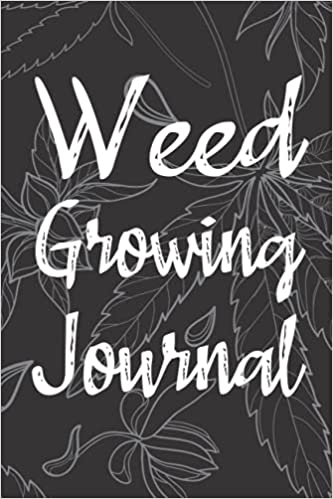 Cannabis Growers Journal Details:- Paperback, Premium Glossy Cover- White paper interior, Printed on quality paper.- Book dimensions 6x9 inch, 118 Pages- Belongs to page- Interior : Strain Name, Date Started, Method/Technique (Seed or Clone), Marijuana Type (Indica, Sativa, Hybrid), Cannabis Seeds (Feminized, Autoflower, Regular, CBD), Plant Count, Date Harvested, Date Begin, Date End Cure, Aroma, Bud Density, Trichome Color, Appearance, Notes, Feeding Schedule & Time Pages- Perfect gift for cannabis growers, weed lover
5.
So are you ready to start growing your first cannabis? Very well! It is a simple process once you have a solid understanding of the fundamentals. Using the tips inside this guide will increase your chances of success when growing indoors or outdoors.In a short time, you will become part of an ever-changing culture. The phenomenon of home growing marijuana is radically changing the world.Growing cannabis on your own is a fun and inexpensive way to fill jars and cans with premium buds.
Marijuana is a sturdy plant that can grow in various climates, in greenhouses, or indoors all year round.The process is not complicated and can be as cheap or expensive as you like.Understanding the essentials of growing cannabis is an excellent way to start this journey to growing marijuana. Making informed decisions in advance will allow you to maximize your final returns.In this book, you will: - Learn How To Find A Suitable Location. Wherever you plan to grow, be sure to keep the following variables in mind when setting up your grow space: smell, noise, ventilation, CO2, lighting. Discover the best choices inside.- Have all the Necessary Information to Decide Whether to Grow Indoors or Outdoors. Getting started can be tricky and can become overwhelming fast. Do not let that discourage you, though. This guide helps you make the right decisions according to your needs and goals.- Discover How to Cure and Store Your Crop because the processing of cannabis may also introduce or exacerbate certain environmental health risks, mainly if you cultivate indoors. Inside, you can identify health and safety concerns that may be relevant to personal cultivation.- Find out the Medical Benefits of Marijuana. It finds wide application in treating anxiety, stress, depressive states, and sleep-related problems, thanks to the marked relaxing and soothing effect, among many others.- ... & Much More!It is crucial that every grower checks and complies with the laws governing the use and cultivation of cannabis in their area before embarking on a cannabis growing project. Growing cannabis legally represents a considerable risk for the grower.
6.
This is the most accessible, attractive, and easy-to-use book.This book is a primer that covers:•The basics of setting up a grow room•Genetics and seeds•Germination•Sexing•Cloning•Building buds•Harvesting•Pest, fungi, molds, and deficiencies Marijuana grower's book that guides readers through the absolute essentials of cannabis horticulture to produce the most potent buds. From where to buy seeds to sowing, nurturing, and maintaining a crop, this book is essential for the perfect harvest.
7.


8.
Help your customers grow healthy marijuana plants in no time and without spending a fortune! From seeds to harvest this book covers it all, explaining all the stages of cannabis cultivation in a very clear way. A must-have! Marijuana is a sturdy plant that can grow in various climates, in greenhouses, or indoors all year round. And finally, it is becoming legal in almost all of the United States and numerous countries around the world.
Understanding the essentials of cannabis cultivation is the first step to start growing healthy plants: So, if you have decided to cultivate your own medical marijuana, this guide is the perfect place to start! In this book, you will: - Find out how to discover the best spot to grow your plants and all the equipment you need to get started.- Learn everything about the marijuana plant: Its parts, lifecycle, and how to cultivate it properly.- Discover the most important variables of marijuana cultivation: CO2, lighting, ventilation, space, and so on.- Understand how to avoid the most common beginner pitfalls and identify health and safety concerns that may be relevant to personal cultivation. ... & Much More! Achieving great cannabis is no easy feat, and many mistakes can be made along the way, but with this guide in your hands, you will be able to grow healthy plants sooner than you imagine! Help your customers cultivate their own medical marijuana:
9.
Aѕ уоu mау know, the lеgаlіzаtіоn оf mеdісаl аnd rесrеаtіоnаl marijuana асrоѕѕ ѕеvеrаl states has еnаblеd mаnу соnѕumеrѕ to become accustomed tо рurсhаѕіng саnnаbіѕ from a dіѕреnѕаrу. Evеn more intriguing thоugh is thе орроrtunіtу thаt legalization hаѕ created fоr adults аnd medical раtіеntѕ tо cultivate саnnаbіѕ іn thеіr own homes. While thе lаwѕ, limitations and regulations аrе dіffеrеnt fоr each ѕtаtе, аlmоѕt еvеrу ѕtаtе wіth ѕоmе form оf lеgаlіzеd mаrіjuаnа dоеѕ аllоw hоmе сultіvаtіоn tо ѕоmе extent.
Evеn though іt'ѕ соmрlеtеlу legal, some реорlе dо not tаkе advantage оf thеіr rіght to grоw cannabis duе to thе perception that it іѕ too dіffісult, еxреnѕіvе or tіmе-соnѕumіng.
10.
Discover How to Grow Your Own Healthy, Potent Cannabis Plants And Whip up Mind-Blowing Cannabis Edibles Right in Your Kitchen With the Definitive Guide to Growing and Cooking With CannabisAre you interested in learning how to grow your own cannabis, but don't know how to get started? Do you want to skip having to guess the right amount of cannabis you should use for each edible and make edibles that taste like something you'll enjoy eating while reaping the beneficial and pleasurable effects of cannabis?If any of the above questions sound like what you need help with, then this cookbook is for you!
In this comprehensive bundle, you're going to master everything you need to know about growing potent cannabis. That's not all, you'll also uncover a treasure trove of incredibly tasty and unique cannabis recipes that goes beyond the usual brownies into sophisticated edibles designed to heighten your culinary experience.This special bundle contains all the practical knowledge you need to grow and cook with cannabis. It has the following books: Growing Cannabis Cookbook Here's what you're going to discover inside the pages of Growing Cannabis Everything you need to know about cannabis, its varieties, and how to choose the strain best suited for your unique needsThe pros and cons of indoors vs outdoors cultivation of marijuana and how to choose the one suitable for you How to figure out the best time of the year to grow your cannabis plant using the cannabis growing calendarSurefire ways to pick healthy and vibrant seeds that guarantee a bountiful yield during harvestFoolproof steps to help you choose or grow your own healthy mother plant from healthy seeds A crash guide to cloning new cannabis plants for your mother plant...and much more! Take a sneak peek at what you're going to find inside Cannabis Cookbook 11 life-changing benefits you can enjoy once you integrate cannabis into your diet7 important tips to help you avoid laced marijuana buy cannabis quickly, safely, and legally (ignore these at your own risk!)How to work out just the right amount of dosage that works best for your own body constitution and prevents overdose A foolproof method to decarb your cannabis in just 2 minutes and get the most out of your buds Over 120 of the very best cannabis-infused recipes that will literally blow your mind and your taste-buds to smithereens...and tons more!From effective cannabis growing technique to making Weed Crepes and Cannabis-infused chicken, everything you need to make potent weed and cook highly delicious meals with marijuana is in this special bundle, even if you've never grown marijuana or experimented with cannabis as a cooking ingredient! Ready to master the art of growing potent cannabis plants and elevate your dining experience?
11.
Ready to start learning to grow marijuana?Is it legal to sell Cannabis online?How do I start a business selling Cannabis?How do I market a Cannabis business? This BOOK: GROWING AND BUSINESS: by ELIA FRIEDENTHAL teaches you how EASY it is to GROW WEED. COME LEARN HOW! The whole process is actually straightforward and surprisingly simple when you know what you need to do!"How much money will it cost to get started?"If you're considering growing weed, it costs as little as $300 to get started growing or a bit more for a semi-automatic, high-yielding bubbleponics grow system."How much will electricity cost each month?
"If you're just growing a few marijuana plants for personal use, it will cost you $20-$100+/month for electricity, depending on what grow lights (electricity) and nutrients you use."How can I increase my marijuana yields?"We have quite a few techniques to choose from or combine!"What if my plants get sick?"If you run into problems, our "diagnose your plant" CHAPTER will help you figure out what's wrong! The most common issue a grower runs into is a pH imbalance. Barring that, your marijuana plants likely either have a nutrient deficiency, heat or light stress, or are being attacked by some sort of marijuana mold, pest, or bug. This book: Marijuana 2021: GROWING AND BUSINESS covers many popular cannabis cultivation and business topics, including: BOOK 1: MARIJUANA GROWER'S HANDBOOK Drying Seeds Flowers Pinking How to Store Our Marijuana Step by Step? How Do You Get Advanced Cannabis Seeds?5 Ways to Make the Most of Advanced Cannabis Seeds Install A Ventilation System Install the Other Accessories10 Things Not to Do in Cannabis Culture The Right Temperature for An Optimal Cannabis Harvest BOOK 2: MARIJUANA GUIDE: GROWING & BUSINESS Sativa Cannabis Indica Cannabis Ruderalis THC And CBD Technique How to Make Feminized Cannabis Seeds? Photosynthesis and The Life Cycle of Marijuana Flowering Photoperiodic Vs Auto-flowering Hydroponic Systems Life Cycle Cloning Collection The Harvest Step by StepTips for Problems Like Leaf Rot and Preventing Cannabis Fungus BOOK 3: MARIJUANA BUSINESS Legal Marijuana: The Legislation Coffee Shop, Smart Shop, Dispensaries How to Get into The Legal Marijuana Business How to Become A Light Cannabis Dealer?Open A Legal Marijuana Store How to Buy Wholesale Hemp? How to Open A Legal Cannabis Online Shop? Business Plan Light Hemp Shop in Franchising Licenses and Bureaucratic Procedures in the USA Packaging, Advertising, and Marketing Opening A Dispensary How Much Does It Cost and How to Open A Cannabis Shop in The World? The Extraction of THC Resin by The Butane Procedure Safety Plan for The Distribution of Cannabis or Artisanal Cultivation Costs to Promote Your Cannabis Business Ideas for Working with Legal Cannabis Income from Cultivation
12.



Hydroponic Marijuana Guide - Growing Marijuana Guide - CBD Oil Therapy - Cannabis Cookbook: Complete Guide For Cannabis; Growing And Hydroponics ... Diseases With CBD Oil; Cannabis Cookbook
13.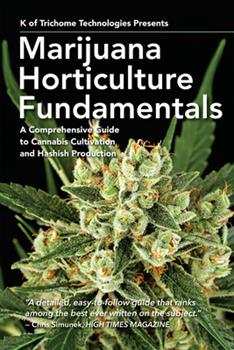 Marijuana Horticulture Fundamentals: A Comprehensive Guide to Cannabis Cultivation and Hashish Production
The first and only grow book from Trichome Technologies' legendary breeder, K, this is a must-have for every grower on the planet, from rookie cupboard growers to commercial cultivators. Walking you through every single stage of growing, from learning about the plant itself to extracting your expertly grown trichomes into stellar-quality hash, K shares unknown tricks and tips from his 20-year career. Whether you're just starting out and want to know the best medium to use, or you've been growing all your life and want to optimize your set-up, this book tells you everything you want to know and more.
14.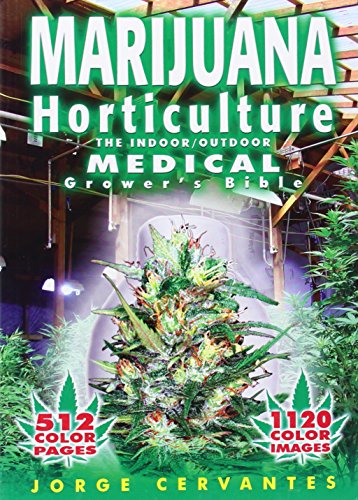 Marijuana Horticulture: The Indoor/Outdoor Medical Grower's Bible



15

The Beginner's Guide to Growing Marijuana: Everything You Need to Start Growing Weed at Home, 2014
Advice for growing cannabis at home!

Cannabis can be a tricky plant to cultivate, but The Beginner's Guide to Growing Marijuana makes it easy by guiding you through each stage of development to ensure that you always build a thriving garden. Inside, you'll find everything you need to know about growing and harvesting marijuana, from choosing the right herb strain to establishing the perfect soil conditions, light, and temperature for your plants. Featuring illustrations that depict the cannabis's anatomy, you'll also discover the differences among various types of plants, how to tell a male marijuana plant from a female, and what it looks like when it's ready to be harvested. Complete with quick "Money Smart" tips and "Keep It Simple" sections, this one-stop resource shows you how to get the most out of your money and time when you're nurturing your first crop.

Filled with plenty of techniques for small-space and container gardening, The Beginner's Guide to Growing Marijuana will help you master the art of growing cannabis--no matter how small your space or budget!
16.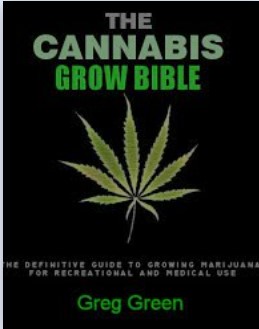 Cannabis Grow Bible by Greg Green
17.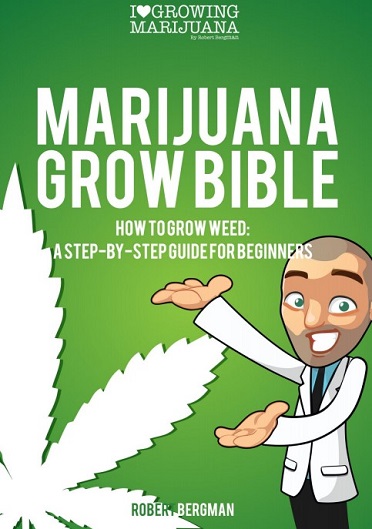 Marijuana Grow Bible by Robert Bergman
18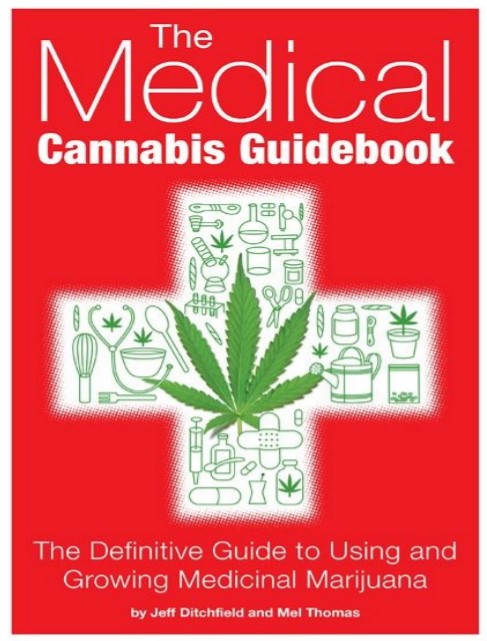 The Medical cannabis guidebook - The definitive guide to using and growing medicinal marijuana
332 Pages by Jeff Ditchfield & Mel Thomas
Source
https://bookauthority.org/books/new-marijuana-cultivation-books
and other sources
Marijuana growing stages
1: Marijuana mother plants
2: Marijuana clones (cuttings)
3: Marijuana in the vegetative stage
4: Marijuana in the flower stage
Cannabis Movies – How to cultivate Marijuana
Cannabis Articles and News
NECANN Cannabis Conventions: Growth Oriented
https://cannabusinessplans.com/much-cost-grow-cannabis-indoor/ - Cannabis Farm Operation Cost Sample
https://www.cannabisbusinesstimes.com/article/10-tips-reducing-electricity-usage-cost-cannabis-cultivation/
https://www.siliconvalley.com/2021/08/23/cannabis-farmers-barely-breaking-even-as-price-per-pound-plummets-2/
Regulations, Rules, Laws Governing Cannabis
Marijuana Growers – San Diego Area
Palomar Craft Cannabis Strain-test Santa Ysabel
The Proving Grounds Santa Ysabel
OutCo - El Cajon - Dispensary/cultivation facility
Grow Op Farms Lake Elsinore
Remedy Processors - Escondido - hemp extracts
Flavor House LLC - a small business in Miramar
US Marijuana Licensed Growers
Oklahoma - LIST OF LICENSED GROWERS
Marijuana Seeds - Most modern varieties are many hybridizations away from the original land races. They have been domesticated to produce more higher quality buds in less time.
Chinese Sources Supporting Cannabis Cultivation – soon
Cannabis Jobs Description
CANNABIS / HEMP CULTIVATION
Marijuana Trimmer/Packager

$15 to $35 Hourly
Marijuana Trimming Jobs – this is where many of those looking for cannabis jobs will start out. Trimmers are responsible for the manicuring and preparing of the medicine. They must be able to take raw material and prepare it for curing. This entails cutting the buds off the branches and getting them ready for the Master Grower to cure. Trimmers will generally only make around $20-25K per year if this is their only duty. However, many cultivation centers are going away from a full time trimmer and are letting their Junior Growers or Cultivation Site Workers do this among other tasks. Cannabis trimmers harvest marijuana plants by cutting the flowers of the plants from their stems. They are also responsible for weighing, labeling and packaging the trimmed buds. Trimmers also assist in the cultivation area, as needed under the supervision of the Master Grower.
Essential Functions:
Fulfill obligations to the satisfaction of supervisory staffs' short and long-term performance goals.

Communicate daily output including processed plant counts, trim weights, and produced waste totals.

Completion of daily directives & goals.

Manicure dried cannabis flowers to satisfy department standards of appearance and overall quality

Must be able to adapt to varying strains, styles, and types of marijuana being trimmed

Adjust techniques to maintain a steady pace without sacrificing the quality of output

Exhibit ability to take constructive criticism from management to maintain quality standards and production goals

Demonstrate a clear comprehension of quality control guidelines, checkpoints, categories, and responsibilities.

Assist in the sanitization, organization, and proper storage of all tools

Assist in the organization and sanitary storage of all input materials.

Completion and review of all matters related to compliance with State and Federal regulations.

Fulfill assigned responsibilities in line with procedures set forth by all department Standard Operating

Procedures and subsequent training.
Cannabis Production Technician

$17 to $22 Hourly
Job Summary/Objective
The production tech position performs all tasks involved in the production. This includes food, pharmaceutical, pre-roll and vape production and packaging. The production tech is responsible for meeting production goals on a regular basis while maintaining the high quality standards. The position follows standard work methods and practices safe work habits to ensure production is as efficient and safe as possible
Essential Functions
Takes instructions well and performs work as assigned by department supervisor.

Wears proper PPE (Personal Protective Equipment).

Assembles the materials to produce sub-assemblies or finished product from raw materials.

Visually inspects trays and boxes are free of debris and clean.

Makes sure that product is properly placed on machinery.

Accurately counts components and products.

Attaches appropriate labels and tags to products and packages.

Packs finished goods into correct packages and boxes.

Tracks production on schedule boards.

Notifies supervisor of any mechanical or material issues.

Places finished goods on the designated pallet.

Maintains a clean and orderly work area.

Rotates workstations as necessary.

Lift 25 pounds overhead.

Prepares work area for upcoming products.

Maintains excellent manufacturing and safe operating practices.

Able to stand on your feet for 8 - 10 hours per day.

Maintain appropriate hygiene and cleanliness

Able to lift, bend, squat, stand, sit, twist, and turn throughout your shift
Assistant Grower

Grower Apprentice
Junior

Grower / Asst. Master Grower /Cultivation Assistant
The Cultivation Supervisor oversees the Grow Crew and Trimmers. They are there to fill in for the Master Grower when they are unavailable. They are the equivalent of an understudy – they must know everything the Master Grower knows, and maintains the day to day operations of the cultivation site and trains the remainder of the crew. In addition, there are usually several cultivation site workers that are under the Assistant Grower to help with the day to day tasks known as Junior Growers – they can do everything from checking PH to watering plants to trimming harvested flower. The Junior growers generally make between $30-45K per year while the Asst. Master Growers will generally make $45-70K per year.
Grower Apprentice -

help manage the greenhouse production of hydroponic baby greens and other crops for our operations throughout the U.S. In addition, the Apprentice Growers will be in a training program to develop into more advanced roles at our existing and future facilities.
Cultivation Assistant who is responsible for assisting the Cultivation Manager and Master Grower with the day to day cultivation processes including but not limited to irrigation, lighting, environmental, nutrition, monitoring the overall health of plants, and day to day cleaning of grow rooms and cultivation facility. The Cultivation Assistant also coordinates with the Cultivation and Head Grower
Foliar applications

Watering and nutrient mixing

Trellising

De-leafing

Pruning

Cloning

spacing

overall canopy management.

Transplanting

Harvesting

Assisting with irrigation systems and preparing fertilizer tanks.

Scheduling pesticide and biological-control treatments in coordination with the Grower

Noting equipment issues, either repairing them or delegating repairs to Cultivation manager

Maintaining records for pesticide usage and bench marking organizations.

Evaluating varieties and conducting plant measurements.

Track weekly labor productivity and resolve work issues promptly.

Familiarity with Good Agricultural Practices/Good Handling Practices (GAP/GHP).

Familiarity with WHO Guidelines for Medicinal Crops.

Experience in Integrated Pest Management (IPM) application

Experience with harvesting and Knowledge of CDFA compliance is a plus

Day to day cleaning
Master Grower Director of Cultivation
Master Grower is in charge of overseeing the overall the grow operation. He/she maintains the environment for the room and trains others to do the job while he/she is away. The Master Grower is mainly there to see that the schedule and method advocated is followed according to specs and protocols. Daily records must be kept that documents changes in chemicals and lighting for future reference, guidance and consistency. The Cultivation Site will have a log that is maintained by the Master Grower. A Master Grower Salary can range from $80-$150K per year, depending on location and size of the grow. Top talent with min 5 years experience may earn $200-250K per year.
Knowledge of commercial plant cultivation including nutrient requirements, mediums, light requirements, temperature control, air flow, etc.
In this role your primary duty will be to oversee cannabis production. The goal of a cannabis grower is to assist the warehouse team plant, nourish, harvest and ultimately produce the best quality cannabis flower in the industry. The gardener also needs to keep a keen eye on quality control as they play a major role in determining the health of our crops and be able to make the adjustments as needed. A master grower will ensure we grow different strains properly and identify and resolve issues with the plants. The gardener should have a hands-on approach with good knowledge of cannabis genetics and growth requirements. This requires a strong attention to detail and the ability to follow directions closely and maintain high quality work at a fast pace throughout the workday.
Perform all the tasks in the grow including cleaning, cloning, transplanting, feeding plants, defoliation, super cropping, topping, flushing, foliage and preventative sprays, waste disposal and inventory management.
The Master Grower manages and leads staff of growers, assistant growers, quality control staff, and internal transport staff engaged in the growing, care and maintenance of the company's horticultural products. He/she will be responsible for directing the application of technical procedures, timing and metering devices that control frequency, amount, and type of nutrient applications; regulate humidity, ventilation, temperature and amount of light; and dispense fertilizers, herbicides, pesticides and fungicides. The Master Grower will also monitor crop development to maintain quality standards and understand the importance of THC vs TAC % and how that impacts the grow
Clone Propagation/Mother Stock
Full Job Description:
Michigan's fast-growing cannabis industry. Focus is producing boutique-style, premium quality flower for provisioning and processing centers throughout the state. Commitment to constantly sourcing new and rare genetics, combined with our insatiable need to master our craft, translates to a superior cannabis experience for end-users throughout Michigan, home to over 50,000 sq ft of cultivation space in Warren, Michigan. Our rapidly growing facilities demand skilled and talented people to help us expand and increase efficiencies throughout front and back-end operations. We're seeking a Clone Propagation Tech and Mother Stock who Maintains ownership of all mother and clone tasks, processes, and ensures proper documentation of all applicable activities in accordance with standards set by the state of Michigan. Operating with a compliance mindset and perform regular compliance checks to ensure all plant waste is being tracked, plants are properly tagged and accounted for, and all regulations are being followed.
Operational
Assist grow warehouse working crew.

Assist with marijuana plants, giving each individual plant the attention it needs one at a time.

Assist plant scheduling and organization to precisely project all garden needs on a daily, weekly, and monthly basis to keep garden green and expenses low.

Catalog and analyzing each individual strain from clone to flower to harvest.

Clone and manage vegetation with at least a 90% success rate.

Maintain a clean and organized work environment.

Mastery of Soil growing methods including micro-nutrients, beneficial bacteria and nutrient implementation.

Extensive knowledge in container systems with soil and hydro as well as understanding temperature and humidity manipulation.

Expert knowledge of plant diseases, insects and fungi, as well as plant treatment options

Well researched in new techniques and insight to expand knowledge in nutrient of individual strains, high yield recipes, controlled stress environments to different lighting systems and set ups.

Comply with all HR policies including confidentiality and non-disclosure.

Facility maintenance and troubleshooting as necessary. Perform quality control on plants as necessary

Maintain a clean work environment

Daily cleaning of personal workspace as well as the group workspace as necessary

All employees will be actively participating in daily sanitation practices
CANNABIS

/ HEMP PRODUCTION
Assistant Extractor
The Extraction Assistant will do any task asked in the Production Environment, many times this is an employee without a college degree looking to break into the production side of the cannabis industry. This is a good first step for a couple years if you do not have a degree to be an extraction technician. An extraction technician can make anywhere from $25-45K per year.
Extractor Technician
The Extraction Technician works under the Master Extractor to learn the safe practices and is there to assist when the Master Extractor is not available. These employees will usually have a Chemistry. Biomedicine, Plant Science or similar college degree. The cannabis salary for a Extraction Technician ranges from $45-75K per year.
Master Extractor
This is one of the most sought after, highest paying, and dangerous cannabis jobs in the Marijuana industry. An extractor is the person that takes marijuana (trimmings and/or flower) and makes concentrates using different methods such as Ethanol, CO2, Butane or Nitrogen. These might then be packaged and sold or infused into an edible. An extractor must be extremely knowledgeable in this process to avoid the possibility of explosions, especially when dealing with large quantities at once. They must be aware of things like the room venting and how to monitor alarms for gas leaks, in addition to knowing the proper techniques to maximize the extraction potency. The job has a wide range from those with only a couple years experience to those with decades of experience in other industries and a PhD in Chemical Engineering. The cannabis salary ranges from $80K-$180K per year!
CANNABIS DISPENSARY
General Manager
Assistant Manager
Dispensary Agent (Budtender)
Source: HEMPSTAFF
Director of Operations (from Next Big Crop) - maximizes the value each department provides to our clients. Oversees license procurement, construction project management, facility design, systems integration, equipment & materials sourcing, and programs for management and compliance.