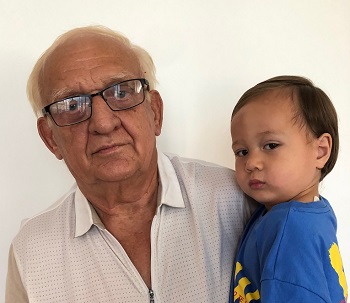 Me with 2 yo son
Born in Poland, was living in US, currently in China but when Coronavirus allows, move back this year to California. 3 times married, 8 kids
Education: MSEE Technical University of Wroclaw, Poland, Electronics Faculty, graduated 1977, Various courses at De Anza College, California, MBA courses California Coast University.

Live Credo-Principles: Love my kids, be healthy, be happy, be rich, keep busy, be creative, enjoy life. All times explore and learn something new and unknown. Impossible is Impossible. If life they kick you out by door, enter by window, never give-up. You can do it too.

Interested: TCM -Traditional Chinese Medicine, herbs extending human life, Longevity, Parapsychology, Spirituality of Men (not related to any religions), Philosophical Daoism, Gamma Brain Waves, Pineal Gland Activation, Subconscious, Intuition, Kundalini Energy, Akashic Records, OBE, NDE, Life After Dead, Parallel Worlds, Multi-dimensions, Brain and Body MRI, Ancient World History, Chinese antiquity and Art, restoring old antique furniture and few more.
What people say about us: "WHITECHINESE (bialychinczyk - my Chinese nick). Beseeched children with women of every possible colour, except green. A local entrepreneur living in Foshan, Guangzhou, whose favourite Chinese hobby is tearing the stab at local bonzes of Chinese bureaucracy. Worth reading and visiting a blog about China for being practically writing about it: how to build factories in China, bake Polish bread, rush moon binge with a Chinese mother-in-law, prolific Chinese children with a Chinese woman decades younger. In his spare time, he drives a ten-meter white limousine around Guangzhou, for which the Chinese customs office charged double taxes when importing a car from the USA. Charges "for a white face". To be fair."

Current Activities: Working on WWW.Amsil.com which will be a major source in English language about extending healthy life by herbs and to be information sources how Chinese doing this for last 5000 years. How Chinese cure major Western illnesses like cancer, diabetes, impotence, high blood pressure and others chronic sicknesses.
Shortly will be moving back to Southern California and work on our small ranch. Finishing building and decorating new 7500 sf house in China, converting ocean container to small house and when it will be possible, ship to US and install on our ranch.

We are a Polish - American- Chinese and have lived in China for the last 20 years.
During this time, we organized several companies, bought from the Chinese government a 1.6 ha plot in the industrial area of Heshan in the southern China and built a factory; 3 buildings plus warehouses, total 13,800 m2 (almost 150 000 sf) under the roofs where we produced modern couches and we sold them via the Internet and through our subsidiaries in California and in Poland. At present time, our factory in China is leased for two other different producers for long-term contracts.

We are living in the city of Heshan in the south of China in Guangdong province, 60 km from Guangzhou (old name Canton) and 100 km from Hong Kong. We have a very frequent bus connection with these cities and also a 2 hours ferry to Hong Kong. It is at the completion of high speed train to Canton and Heshan will turn into the bedrooms of Foshan-Guangzhou-Canton-Hong Kong.
We have already organized a multi million business starting from scratch, building a new factory and organizing sale via the Internet and we are convinced that we will also be successful in the next business, this time for a much larger and longer scale.
We are proud of our holistic approach to healthcare utilizing the amazing potency of nature. Medical herbs and food has been employed the world over for at least five thousand years. Herbs and medicinal foods are vital to practitioners of Chinese, Tibetan, and Ayurvedic medicine.